Altec Lansing Rockbox Bluetooth Speaker, IP67, IMW991
Regular price
$129.99
Sale price
$19.00
Unit price
per
Sale
Sold out
Warranty Term: 90 days (1 year with registration)
Warranty Provider: Certified Preloved®
Model Number: IMW991
The Altec Lansing RockBox will amplify your sound and electrify the party. Thanks to 24 watt RMS, the RockBox will deliver a powerful booming sound that will be sure to impress. Featuring up to 12 hours of battery life and a built-in smartphone charger, you and the music will keep going! The RockBox features House Party pairing, so go ahead and pair up to 50 House Party enabled speakers together for the ultimate surround sound. Plus, this speaker is IP67 waterproof rated, so a spontaneous rain shower will never interrupt the good times. Soaking wet and need to order a pizza? With Just Ask, you can access Siri or Google Voice Assistant via Bluetooth by a simple vocal command all while remaining hands-free! Stop, Drop, Ready to Rock! The RockBox is the ultimate party speaker - guaranteed to keep the party fueled for hours! Up to 12 hours of playtime and 5 Led light modes, this speaker will electrify the party! Ultimate On-The-Go Companion Bring your RockBox along, built-in carry handles make portability simple! Not sure what the elements will bring? No problem, IP67 Waterproof Rating will keep you Rockin' even in the worst weather conditions Power up the Party The RockBox is loaded with 12 hours of battery life to keep the music pumping throughout the entire listening session. Built-in USB charging port will keep your bluetooth devices powered up so your music won't stop! House Party Pairing Pair up to 50 House Party Enabled devices to multiply the sound. Keep one RockBox speaker next to the pool and another by the grill - ensure that there is never a music free zone during your next House Party Just Listen App Download the Just Listen App to unlock all the features of your RockBox speaker. From lighting modes to customer support and everything in between! The Just Listen App is your one-stop hub for all things Altec Lansing!
There's refurbished, then there's Certified Preloved®. This Rockbox has passed stringent testing by Certified Technicians to ensure all components are in great working condition. This Rockbox has also undergone a detailed cosmetic renewal process then been placed in the safest packaging possible to ensure it arrives at your door ready to rock.
Features:
Up to 12 hours of Play Time
Light up your sound
Built-in USB Smartphone charger
House Party Pairing
Included in the box:
Speaker
Quick Start Guide
12W Block
Micro USB Cable
Specifications:
Waterproof Rating: IP67
Battery Life: 12 Hours
Microphone Type: Built-in
Speaker Connectivity: Bluetooth, 3.5mm, and USB
Condition Explanation

Certified Preloved® products have been "loved" by someone else first, and sometimes that love is shown with a little wear and tear. Our listings are separated into three different conditions to represent this and they are as follows:

Products in brand new condition from the factory. These will still be covered under the manufacturers warranty (if applicable) and may come in the original packaging or bulk style packaging.  

Products in the "Factory Refurbished" condition have been refurbished by the manufacturer's contracted refurbisher to the Certified Preloved® refurbishing standard. They are in the best possible condition for their age with only very minor or no cosmetic blemishes at all.

Every technical component of "Factory Refurbished" items have been checked and tested by certified technicians and are guaranteed to be in full working order.

Products in the "Refurbished" condition have passed the exact same tests as all the "Factory Refurbished" items and are in the same cosmetic condition, we just aren't contracted through the manufacturer to refurbish these (yet).

Products in the "B-Grade" condition have also gone through the same refurbishing process by the same technicians, they just have a tad more wear. The bonus to you is an even greater deal than our Refurbished or Factory Refurbished prices.

Every refurbished item we sell, regardless of condition, comes with a 90-day warranty that you can upgrade for free to a 1-year warranty by registering your product with Certified Preloved®.
Warranty Information

All new condition equipment is covered by the original manufacturer's warranty and will vary by product.

All Warehouse B refurbished equipment is in good to excellent condition (unless otherwise noted), carries our 90-day hardware warranty, and is refurbished (tested, cleaned and repaired) by our trained Warehouse B technicians. Our technicians run meticulous hardware diagnostics and thoroughly inspect every Warehouse B product. Items with remaining manufacturer warranties are covered by the manufacturer as the primary service provider.

All refurbished products come with the option to register for a free 1 year warranty through Certified Preloved®. Registration is done after purchase here.

Our Warehouse B warranty begins the date the order is delivered and ends 90 days after delivery date (1 year if registration on Certified Preloved® site was completed). In the rare event a hardware problem occurs during our warranty period, please email the Warehouse B Customer Service department at cs@warehouseb.com. If it is determined that your product should be returned, an RMA # is required. You must email a description of the hardware problem to obtain a Return Merchandise Authorization (RMA). This email automatically starts a support ticket. The ticket closes when the issue has been resolved. The Warehouse B warranty only covers repair service provided at our location. Items arriving for RMA service must: a) be repackaged properly, insured, and include all original items (AC Adapters, power cables, Keyboards, Mice, bundle items, etc.) b) have the RMA# visible on the outside of each package c) have an RMA shipment tracking # emailed to Customer Service before the warranty expiration date. Failure to follow any of these steps can render your equipment ineligible for repair. If any items are not returned that were original, shipped fees may apply. RMA service covers parts and labor. RMA services DOES NOT cover software issues, such as corruption of the Operating System or software incompatibility. Our warranty is voided if authorized RMA: a) # is never issued b) is not in original condition c) has been serviced by a 3rd party d) is the result of accidental or liquid damage. Please backup your data prior to RMA service. Warehouse B is NOT responsible for data loss or transfer.

TO THE MAXIMUM EXTENT PERMITTED BY LAW, WAREHOUSE B WILL UNDER NO CIRCUMSTANCES BE LIABLE FOR ANY SPECIAL, INDIRECT, INCIDENTAL OR CONSEQUENTIAL DAMAGES RESULTING FROM PERFORMANCE OF ANY REPAIR SERVICES, INCLUDING BUT NOT LIMITED TO LOSS OF REVENUE; LOSS OF ACTUAL OR ANTICIPATED PROFITS (INCLUDING LOSS OF PROFITS ON CONTRACTS); LOSS OF THE USE OF MONEY; LOSS OF ANTICIPATED SAVINGS; LOSS OF BUSINESS; LOSS OF OPPORTUNITY; LOSS OF GOODWILL; LOSS OF REPUTATION; LOSS OF, DAMAGE TO, OR CORRUPTION OF DATA; OR ANY COSTS OF RECOVERING, PROGRAMMING, OR RESTORING ANY PROGRAM OR DATA STORED OR USED WITH YOUR PRODUCT AND ANY FAILURE TO MAINTAIN THE CONFIDENTIALITY OF DATA STORED ON YOUR PRODUCT. WAREHOUSE B SPECIFICALLY DOES NOT WARRANT THAT IT WILL BE ABLE TO (I) REPAIR OR REPLACE YOUR PRODUCT WITHOUT RISK TO OR LOSS OF PROGRAMS OR DATA, AND (II) MAINTAIN THE CONFIDENTIALITY OF DATA. IF ANY PRODUCT SHOULD BE DAMAGED OR LOST WHILE IN WAREHOUSE B CUSTODY, WAREHOUSE B LIABILITY WILL BE LIMITED TO THE COST OF REPAIR OR REPLACEMENT OF THE AFFECTED PRODUCT. OTHERWISE, WAREHOUSE B LIABILITY FOR ANY AND ALL DAMAGE SHALL IN NO EVENT EXCEED THE PAYMENTS RECEIVED BY WAREHOUSE B FOR SERVICES PROVIDED PURSUANT TO THESE TERMS. THE REMEDIES SET FORTH HEREIN SHALL BE YOUR SOLE AND EXCLUSIVE REMEDIES FOR ANY BREACH BY WAREHOUSE B UNDER THESE TERMS AND CONDITIONS. WAREHOUSE B IS NOT LIABLE FOR LOSS OR CORRUPTION OF DATA OR YOUR CONFIDENTIAL, PROPRIETARY OR PERSONAL INFORMATION OR REMOVABLE DATA. BEFORE YOU SEND IN YOUR PRODUCT FOR ANY REPAIR SERVICE, YOU SHOULD MAKE A BACKUP COPY OF YOUR DATA AND REMOVE ANY CONFIDENTIAL, PROPRIETARY OR PERSONAL INFORMATION AND REMOVABLE MEDIA SUCH AS CDS OR PC CARDS.

Limitation of Liability

Warehouse B shall not be liable for any special or consequential damages that result from the use of, or the inability to use, the materials on this site or the performance of the products, even if Warehouse B has been advised of the possibility of such damages. Applicable law may not allow the limitation of exclusion of liability or incidental or consequential damages, so the above limitation or exclusion may not apply to you.
Share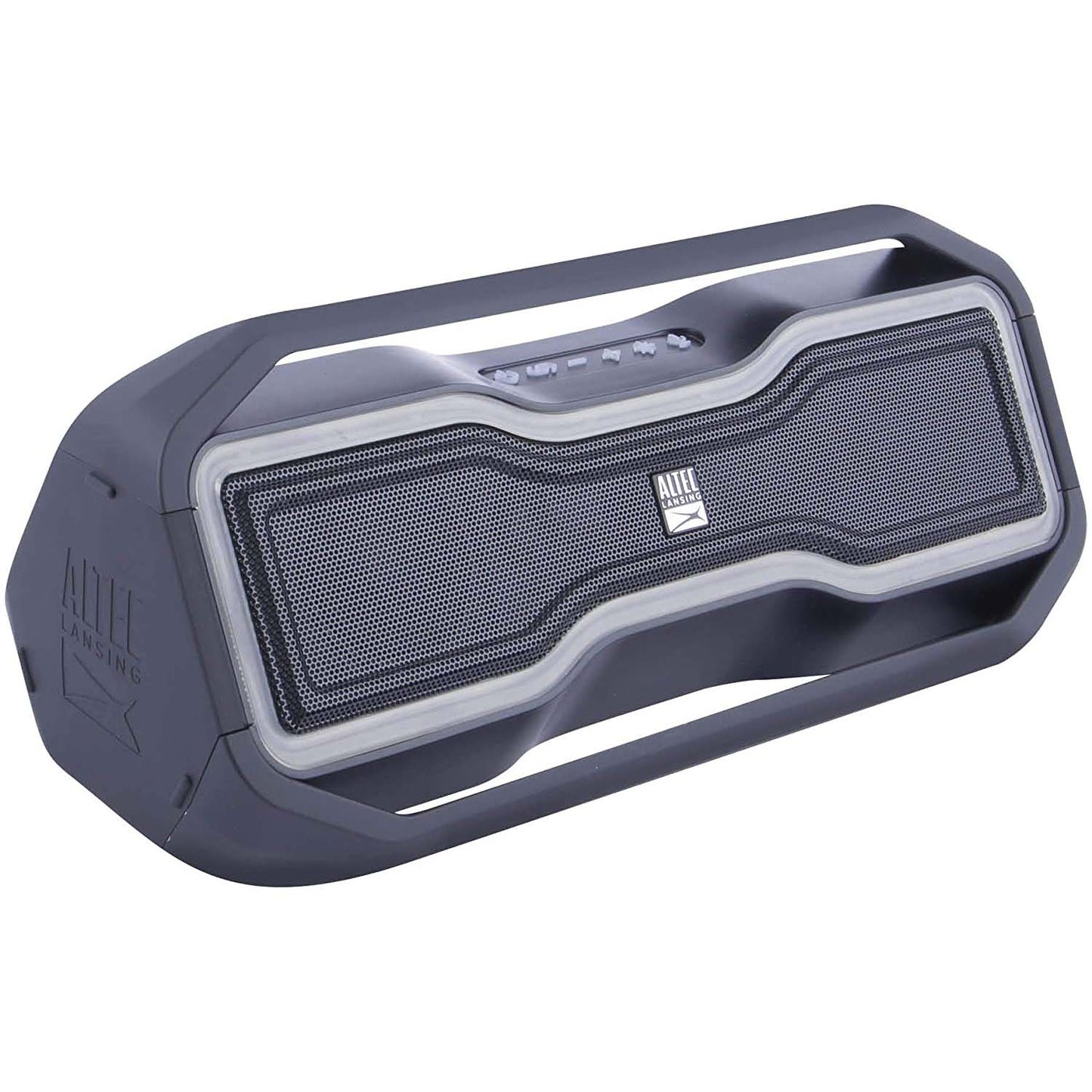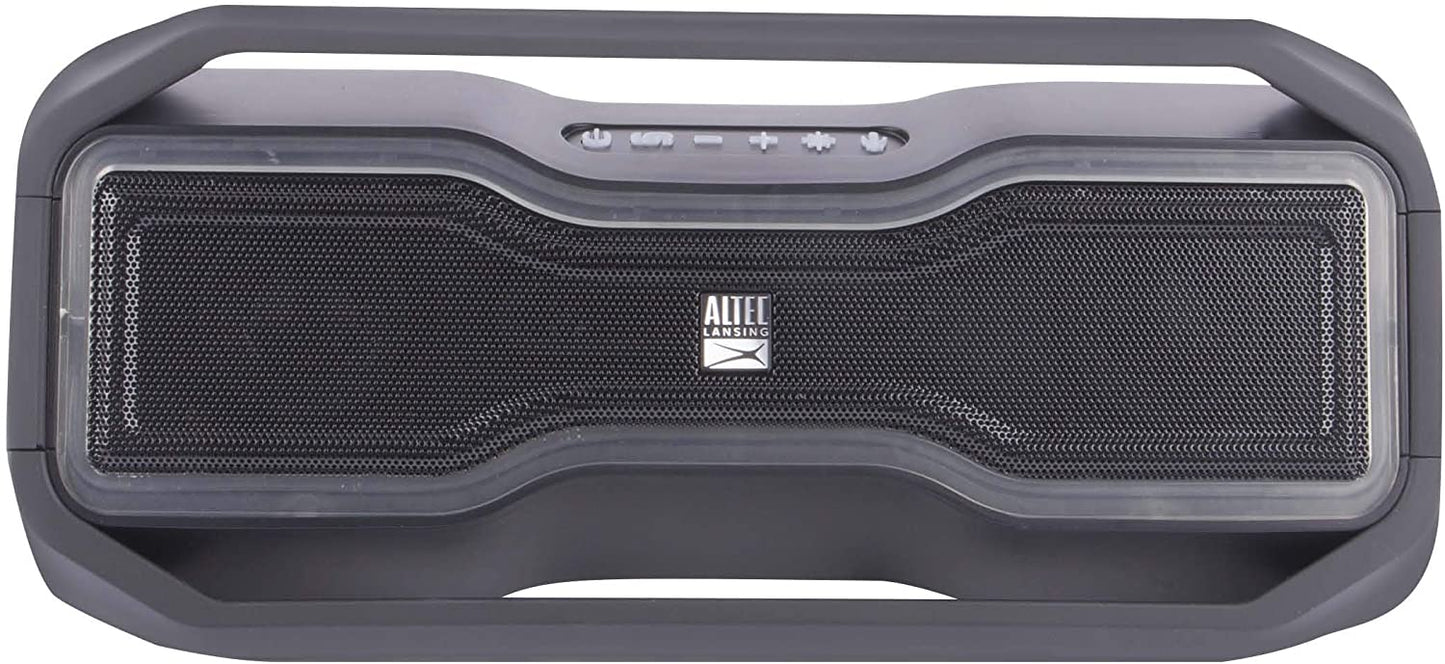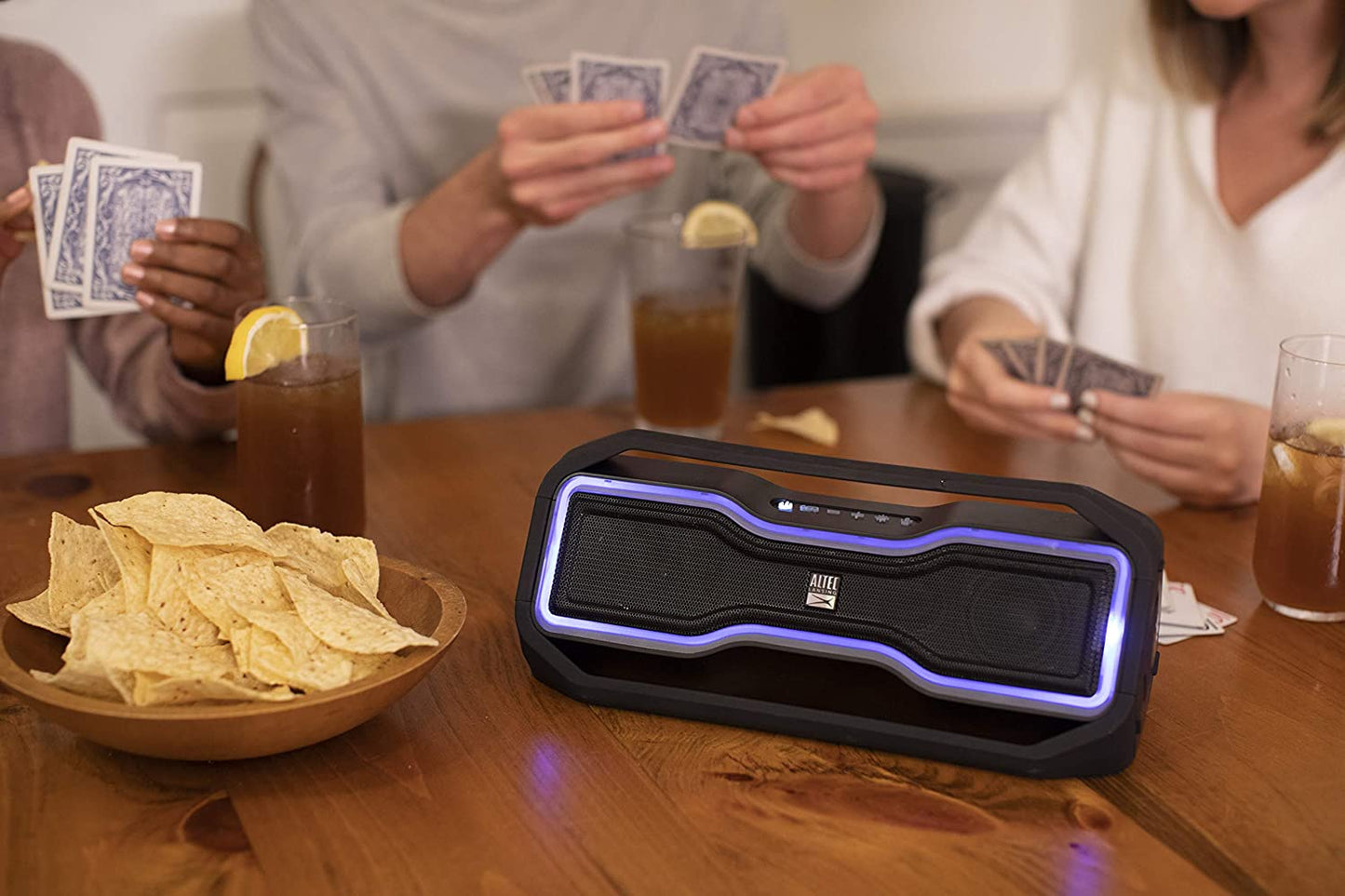 Rockbox Rocks
Altec IMW991 speakers are very clear sounding but lack the bass of its big brother, the Rockbox XL. Really decent sound for a smallish box thanks to Altec using higher end speakers.
Altec Lansing Rockbox Bluetooth Speaker, IP67, IMW991
Current purchase of Altec Lansing
I received my current purchase within five days after ordering, this is my third item ordering with warehouse B. The first two items were ordered earlier this year, I was a little hesitant about the company, which I had not heard of, I received a link to this company from slick deals. I can say that they not only have sent me items in the above average condition, the last one being a Bluetooth speaker Rockbox, I think it's called. Their customer support was exceptional. When I received the third item I had notice it went on sale for $10 cheaper, I had no expectation that they would refund the $10 as that was not an option on their website as far as I could tell, but they gladly did and I must say Amazon would not have done that because I tried before. I can confidently say I recommend warehouse B. As for the functionality of the latest item I Received recently, can't comment on, it looks great, but I can say the two items earlier this year far exceeded my expectations. I am hopeful this one will as well, but I am comforted by their customer support.
Nice & Loud Speaker
Loud, plenty of places to hold the unit. No comments yet on battery life or longevity. Nice little color change light feature which can be turned off.
Excellent Refurb, not terribly loud
The speaker looks new, the refurbishing process is great. I terms of the speaker itself, it is loud enough when played indoors but not terribly loud. However, the main issue I have is that it distorts horribly starting at 1/2-2/3 volume. This isn't really an issue with Warehouse B, but with the product itself. Note there is a bigger version that is available.
Also, it uses a micro USB to charge which is sort of not great, as they are prone to failure and most electronics have moved to USB C.