Altec Lansing Shockwave 200 Wireless Party Bluetooth Speaker, IP65, IMT7100
Regular price
$199.99
Sale price
$99.99
Unit price
per
Sold out
Warranty Term: 90 days (1 year with registration)
Warranty Provider: Certified Preloved®
Model Number: IMT7100
Create the perfect party vibe with the Altec Lansing Shockwave 200 Wireless Party Speaker. The 180W powerhouse makes it the ideal speaker for large gatherings, and the built-in multi-LED party modes can be adjusted to beat, strobe, or pulse to the music. The Shockwave 200 can be horizontally or vertically played for added flexibility. With up to 12 hours of battery life, Multi-Bass Mode, and Party Sync Modes, the Shockwave 200 is the ultimate party companion!
There's refurbished, then there's Certified Preloved®. This Shockwave 200 has passed stringent testing by Certified Technicians to ensure all components are in great working condition. This Shockwave 200 has also undergone a detailed cosmetic renewal process then been placed in the safest packaging possible to ensure it arrives at your door ready to rock.
Features:
180W of Peak Power
The power to party anywhere: 12 hours on Bluetooth
Multiple Bass Modes
Party Sync Mode: Pair up to 50 speakers together for bass boosting sound
Multi-LED Party Mode: 9 LED light modes beat, strobe and pulse to the music
Built-in AM/FM Radio
Dual Ports
2 ways to play! - Vertical/horizontal layout
Included in the box:
Speaker
AC Power Adapter
User Manual
Specifications:
Waterproof Rating: IP65
Battery Life: 12 Hours
Speaker Connectivity: Bluetooth
Condition Explanation

Certified Preloved® products have been "loved" by someone else first, and sometimes that love is shown with a little wear and tear. Our listings are separated into three different conditions to represent this and they are as follows:

Products in brand new condition from the factory. These will still be covered under the manufacturers warranty (if applicable) and may come in the original packaging or bulk style packaging.  

Products in the "Factory Refurbished" condition have been refurbished by the manufacturer's contracted refurbisher to the Certified Preloved® refurbishing standard. They are in the best possible condition for their age with only very minor or no cosmetic blemishes at all.

Every technical component of "Factory Refurbished" items have been checked and tested by certified technicians and are guaranteed to be in full working order.

Products in the "Refurbished" condition have passed the exact same tests as all the "Factory Refurbished" items and are in the same cosmetic condition, we just aren't contracted through the manufacturer to refurbish these (yet).

Products in the "B-Grade" condition have also gone through the same refurbishing process by the same technicians, they just have a tad more wear. The bonus to you is an even greater deal than our Refurbished or Factory Refurbished prices.

Every refurbished item we sell, regardless of condition, comes with a 90-day warranty that you can upgrade for free to a 1-year warranty by registering your product with Certified Preloved®.
Warranty Information

All new condition equipment is covered by the original manufacturer's warranty and will vary by product.

All Warehouse B refurbished equipment is in good to excellent condition (unless otherwise noted), carries our 90-day hardware warranty, and is refurbished (tested, cleaned and repaired) by our trained Warehouse B technicians. Our technicians run meticulous hardware diagnostics and thoroughly inspect every Warehouse B product. Items with remaining manufacturer warranties are covered by the manufacturer as the primary service provider.

All refurbished products come with the option to register a free 1 year warranty through Certified Preloved®. Registration is done after purchase here.

Our Warehouse B warranty begins the date the order is delivered and ends 90 days after delivery date (1 year if registration on Certified Preloved® site was completed). In the rare event a hardware problem occurs during our warranty period, please email the Warehouse B Customer Service department at cs@warehouseb.com. If it is determined that your product should be returned, an RMA # is required. You must email a description of the hardware problem to obtain a Return Merchandise Authorization (RMA). This email automatically starts a support ticket. The ticket closes when the issue has been resolved. The Warehouse B warranty only covers repair service provided at our location. Items arriving for RMA service must: a) be repackaged properly, insured, and include all original items (AC Adapters, power cables, Keyboards, Mice, bundle items, etc.) b) have the RMA# visible on the outside of each package c) have an RMA shipment tracking # emailed to Customer Service before the warranty expiration date. Failure to follow any of these steps can render your equipment ineligible for repair. If any items are not returned that were original, shipped fees may apply. RMA service covers parts and labor. RMA services DOES NOT cover software issues, such as corruption of the Operating System or software incompatibility. Our warranty is voided if authorized RMA: a) # is never issued b) is not in original condition c) has been serviced by a 3rd party d) is the result of accidental or liquid damage. Please backup your data prior to RMA service. Warehouse B is NOT responsible for data loss or transfer.

TO THE MAXIMUM EXTENT PERMITTED BY LAW, WAREHOUSE B WILL UNDER NO CIRCUMSTANCES BE LIABLE FOR ANY SPECIAL, INDIRECT, INCIDENTAL OR CONSEQUENTIAL DAMAGES RESULTING FROM PERFORMANCE OF ANY REPAIR SERVICES, INCLUDING BUT NOT LIMITED TO LOSS OF REVENUE; LOSS OF ACTUAL OR ANTICIPATED PROFITS (INCLUDING LOSS OF PROFITS ON CONTRACTS); LOSS OF THE USE OF MONEY; LOSS OF ANTICIPATED SAVINGS; LOSS OF BUSINESS; LOSS OF OPPORTUNITY; LOSS OF GOODWILL; LOSS OF REPUTATION; LOSS OF, DAMAGE TO, OR CORRUPTION OF DATA; OR ANY COSTS OF RECOVERING, PROGRAMMING, OR RESTORING ANY PROGRAM OR DATA STORED OR USED WITH YOUR PRODUCT AND ANY FAILURE TO MAINTAIN THE CONFIDENTIALITY OF DATA STORED ON YOUR PRODUCT. WAREHOUSE B SPECIFICALLY DOES NOT WARRANT THAT IT WILL BE ABLE TO (I) REPAIR OR REPLACE YOUR PRODUCT WITHOUT RISK TO OR LOSS OF PROGRAMS OR DATA, AND (II) MAINTAIN THE CONFIDENTIALITY OF DATA. IF ANY PRODUCT SHOULD BE DAMAGED OR LOST WHILE IN WAREHOUSE B CUSTODY, WAREHOUSE B LIABILITY WILL BE LIMITED TO THE COST OF REPAIR OR REPLACEMENT OF THE AFFECTED PRODUCT. OTHERWISE, WAREHOUSE B LIABILITY FOR ANY AND ALL DAMAGE SHALL IN NO EVENT EXCEED THE PAYMENTS RECEIVED BY WAREHOUSE B FOR SERVICES PROVIDED PURSUANT TO THESE TERMS. THE REMEDIES SET FORTH HEREIN SHALL BE YOUR SOLE AND EXCLUSIVE REMEDIES FOR ANY BREACH BY WAREHOUSE B UNDER THESE TERMS AND CONDITIONS. WAREHOUSE B IS NOT LIABLE FOR LOSS OR CORRUPTION OF DATA OR YOUR CONFIDENTIAL, PROPRIETARY OR PERSONAL INFORMATION OR REMOVABLE DATA. BEFORE YOU SEND IN YOUR PRODUCT FOR ANY REPAIR SERVICE, YOU SHOULD MAKE A BACKUP COPY OF YOUR DATA AND REMOVE ANY CONFIDENTIAL, PROPRIETARY OR PERSONAL INFORMATION AND REMOVABLE MEDIA SUCH AS CDS OR PC CARDS.

Limitation of Liability

Warehouse B shall not be liable for any special or consequential damages that result from the use of, or the inability to use, the materials on this site or the performance of the products, even if Warehouse B has been advised of the possibility of such damages. Applicable law may not allow the limitation of exclusion of liability or incidental or consequential damages, so the above limitation or exclusion may not apply to you.
Share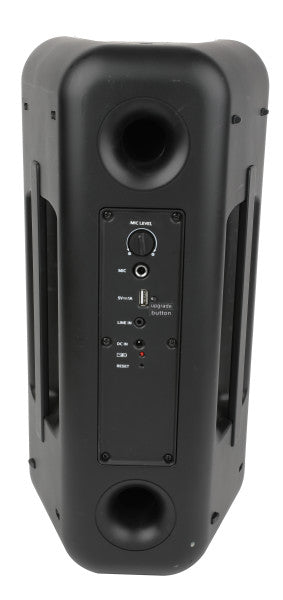 Great speaker great service
This speaker is huge and has all the sound i was hopeing for and was in excellant condition when i got it ansolutly no complaints. I highly recommend this speaker snd wheresouse b as a seller for at least anything to do with speakers as i had a problem with a previous speaker but they made it MORE than right.
Kicks bass
At this price point, this thing is awesome.
The speaker I was shipped came in a generic box, but was well-packed, and looked brand new. I charged it up, and turned it on. It paired immediately and easily.
It won't make you go deaf from it's loudest setting, but what I bought it for, there is plenty of volume in this thing. The lights are cool, I guess. I doubt I will ever use them.
Bass can increased several times, and there is a bass port in the back. When you put your hand near it, it really moves the air. The bass isn't AMAZING, but for the size of the speaker, it's respectable.
Again, at this price point, ($25 shipped) it is an incredible deal. In fact, I bought two more.
Oh, they can chain up for multiple speakers from one source, or "Party-sync mode" (which is why I bought more, you have to stay within the Shockwave family to be chainable).
I hate sounding shill-y, but WarehouseB has some really good deals on refurb. AND if you purchase from them, make sure you register the product on their registration page to get the WarehouseB one year warranty.